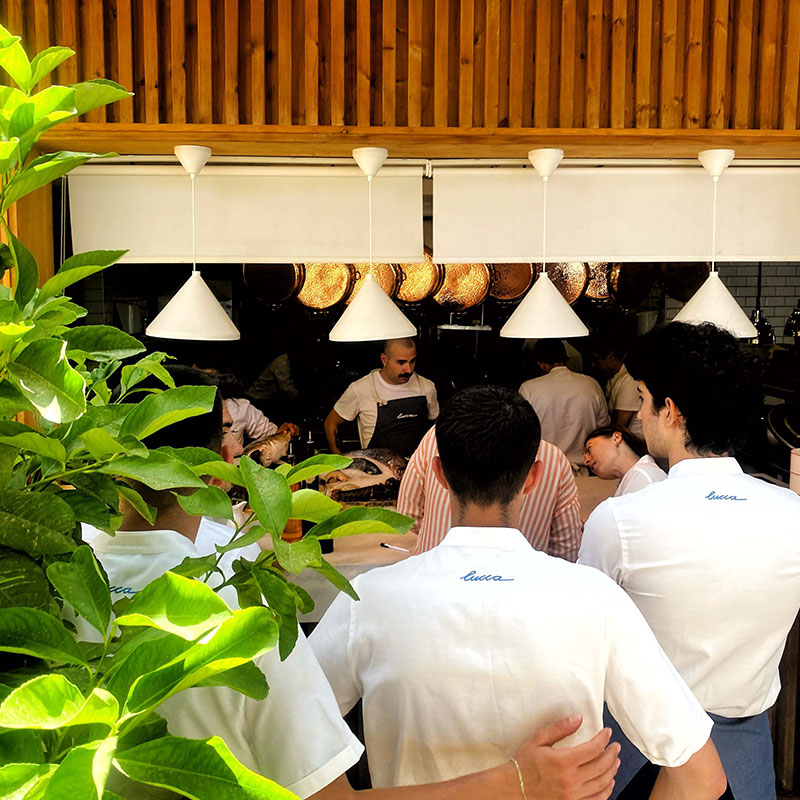 Lucca, located in the upscale neighborhood Bebek in Istanbul is a highly popular lively and stylish restaurant/bar where you can wine & dine in a chic yet casual ambiance.
Since opening in 2004, Lucca is recognized for its unique and original culinary delights inspired from Mediterranean and International cuisines; innovative and trendsetting cocktails; fun-filled lively weekends and evenings, as well as relaxing brunches. Well-known for its inspiring and innovative cuisine; appealing food plating's; first-class cocktail and wine menus and lively ambiance; Lucca kicks it up a notch with lively music performances by popular and renowned in-house DJs later on in the evenings. .
Day or night – Lucca is the place to be! From breakfast bowls to such delectable signature dishes like Artichoke Puree, Tacos, Duck Roll, Sushi plates, Duck Pappardelle and Lemon Sea Bass, Lucca's extensive selections are mainly comprised of culinary delights from Asian/Mediterranean cuisines for discerning customers. Moreover, with one of the best longstanding cocktail menus in Istanbul, inspired and trendsetting refreshing cocktails are prepared at the skilled hands of Lucca's topnotch mixologists. Lucca's timeless signature cocktails include Satsuma Vodka; Chili Loco, Placebo and Brazilian Cooler among others.
Lucca was founded in 2004 by its founder and owner, Cem Mirap. The highly popular Lucca is also a member of the Mirap Restaurant Group. An important symbol and brand in Istanbul, Lucca continues to be the unrivalled meeting point attracting and appealing to trendy and chic Istanbulites and visitors alike to get together, socialize and wine and dine in style. Lucca is among the top venues that are recommended abroad and is on the top of everyone's list of places to go to by those coming to or planning on visiting Istanbul.